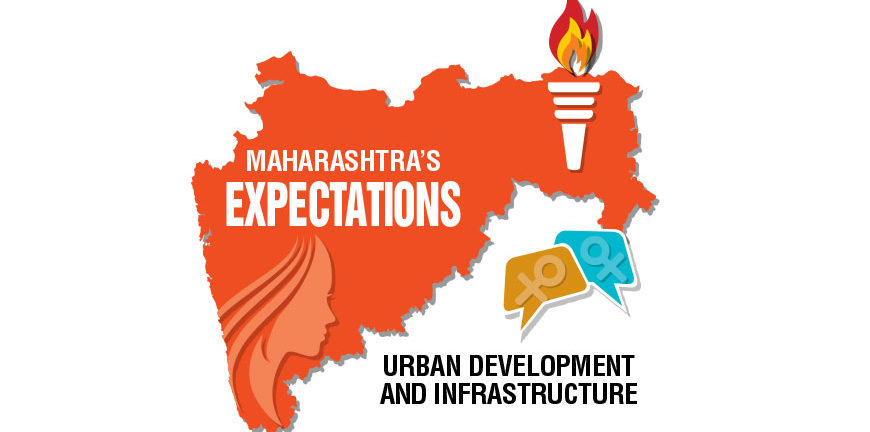 By

Delivering Maharashtra

Cause in
Sustained long-term measures need to be undertaken
To give proper direction to urbanisation in the State, some steps had been taken in last three to four years. However, these steps are insufficient considering the complexity of this long process of urbanisation. Similarly, as there is continuous upgradation in basic infrastructure, one needs to take a note of new needs that are being created. As compared to the national level, the pace of urbanisation in the State is more. On the contrary, some basic infrastructure schemes have been delayed for decades.
And there are no chances that these schemes will be channelised in the next three-four years.
However, one may recall some of the significant steps taken by the government. Importantly, following implementation of Urban Development Act in 1966, there is not enough provision for regional development for each district. So far, only 15 regional development plans have been approved and the process is on to prepare another six such plans. In four districts, the process to approve plans is on and in case of another 11 districts, the process to prepare these plans has not even started. The ruling BJP-Sena government issued a Government Resolution (GR) in July, asking these 11 districts to complete this process soon. Even if this is completed in one year, then also its implementation is a major question. In case of 15 districts where the regional plan has been approved, the implementation is unsatisfactory.
Complicated process and lack of will power
The town planning (TP) scheme is an important tool for implementation of development plan (DP). In the adjoining Gujarat state, the speed for implementation of DP is high, but in Maharashtra, the work is going on at a snail's pace. The reason behind this is a complex procedure and lack of will power. Recently, the law pertaining to TP scheme was amended to speed up the procedure. Now, all local self governments are expected to implement the TP scheme.
The State has recently announced its scheme to legalise the illegal constructions. Such announcement was simply uncalled for. Fortunately, the court has stayed this announcement but the obstacle in the path of urbanisation continues. There is a custom of regularising constructions built up to a certain year. But, while doing so, emphasis was given on not regularising the constructions made on reserved spaces, gutters, riverside roads, but the current government has scuttled this tradition while regularising the constructions. The decision to implement equal development control rules in A, B, and C municipal corporations is correct. This step will bring equality in urbanisation processes.
Need to improve basic infrastructural schemes
There are many changes in basic infrastructure of energy industry. In public power generation sector, since 2010, hardly any change was noticed in the capacity of power generation. But, in private sector, this capacity has doubled. Last year, the public sector had 36.5 per cent share in power generation while private sector had 56.4 per cent. Now, the energy deficiency too has been reduced to a great extent. However, the actual production of energy through non-conventional resources is half our total capacity. Even now, power generation through urban solid waste, industrial waste and through smaller hydro power generation units need to be tapped. There are schemes to increase the rail network in the State from 6,000 km to 10,000 km.
Similarly, the number of air commuters have increased from 2.72 crore to 3.12 crore in last two years. Despite this, the number of airports in the State has not increased. There is a need to create more airports at district places to increase the number of flights to cater to commuters.